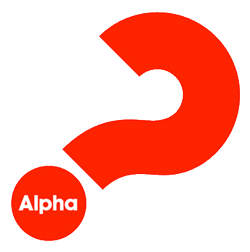 Alpha is a series of interactive sessions exploring the basics of the Christian faith. Each session looks at a different question, and is designed to create conversation. There is no pressure, no follow-up and no charge; it's just an open, informal, and honest space to explore and discuss life's big questions together.
check_circle
Sign up
Joining Alpha online is as easy! Get started by clicking "Try Alpha" on the button below and register on the following page to connect with us online through Zoom.
computer
Tune in
Alpha runs a video talk for about 30 minutes to inspire reflection and conversation. Tune in with us and explore big issues around faith and the basics of Christianity, asking questions about life, faith and God.
question_answer
Connect
Following the video, you'll get a chance to share your thoughts and ideas with others in an honest and friendly group environment online. There's no pressure - just an opportunity to be heard and hear from others!
TRY ALPHA
When: Next Alpha course beginning March 2021 (dates TBD)
Time: 7:00-8:15 pm
Cost: Free
Location: Online (through Zoom)
Try Alpha
Frequently Asked Questions
help_outline
Who is Alpha for?
Alpha is designed for people who don't normally go to church, who are new to church, or who know someone who is and wish to invite them! It's a great place to explore questions about life, faith and God for the first time.
help
Do I need to attend the whole course?
Alpha does not require any formal commitments to stay for the whole course, though you'll get more out of it if you do! We recommend signing up and checking out our first Alpha session, "Is there more to life than this?" to get started.
help_outline
Is there a cost attached?
The Alpha course is 100% free to attend. There are no commitments, pressures or fees attached!